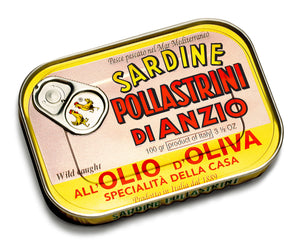 Pollastrini di Anzio is the ONLY Italian brand that manufactures canned Mediterranean sardines. A smaller size sardine harvested with sustainable methods from the Mediterranean Sea, tinned in pure olive oil. Following a tradition carried on since 1889 the wild caught and hand selected sardines are cooked to perfect firmness and tined in top quality olive oil. No preservatives or additives, only the freshest fish perfectly preserved with the finest ingredients following traditional techniques and recipes. 
A food with great nutritional value, high protein, rich in vitamins, Omega 3 and fatty acids. Low in fat. GLUTEN FREE. NON GMO.
Get inspired and feel great enjoying the entire line of Pollastrini di Anzio Sardines canned in olive oil, spicy olive oil, tomato sauce or spicy tomato sauce.
A gourmet food delicious out of the can or to use in your favorite recipes. The perfect gift for foodies.
ALL NATURAL INGREDIENTS -Sardines, olive oil, and salt.

3.5 oz Can