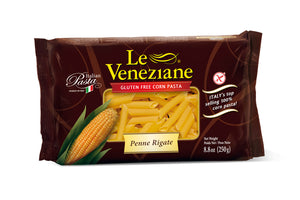 MADE IN ITALY: the entire production takes place in the facility in Italy and starts with the selection of TOP QUALITY 100% ITALIAN CORN. The corn is still processed into flour at the FAMILY MILL, following a tradition started over 40 years ago. The freshly milled corn flour is the main ingredient for the gluten free pasta artisanal manufacturing, a process rigorously monitored by the internal Quality department and lab.
HIGH QUALITY and HEALTHY PASTA: multiple times winner of the ITALIAN QUALITY AWARD, a recognition granted by the Italian consumers, LE VENEZIANE  have perfect cooking qualities that result in always "al dente" pasta with superb texture, delicious taste and great nutritional value. Made with simple and healthy ingredients, a perfect addition to any health-conscious
MULTIPLE CERTIFICATION: The facility and production cycle meet the strict requirements to make LE VENEZIANE line of pasta GLUTEN FREE CERTIFIED. This line of products is also BRC GLOBAL STANDARDS for FOOD SAFETY and IFS FOOD certified. LE ASOLANE BIO is also ORGANIC CERTIFIED with the EUROPEAN Organic Certification.
GET INSPIRED: Enjoy the full range of short and long cuts of LE VENEZIANE gourmet pasta. Pair them with your favorite sauce.