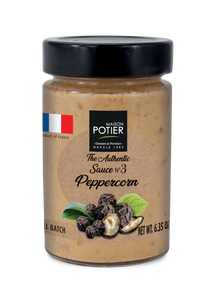 An impeccable sauce crafted to level up your dishes for an authentic culinary experience. Enhance the flavor of any type of preparation meeting all food preferences: appetizers, main courses, second courses, side dishes.
Peppercorn Sauce is perfect
or meat (beef, chicken, pork, venison), burgers.
Ready to heat and enjoy sauce crafted with passion following recipes and flavors inspired by the founder, the renowned Chef Christian Potier, and his son Olivier.
Premium quality: no artificial colors or flavors. Does not contain any genetically modified organism (NON GMO) and/or any ingredient which comes from genetically modified organism and gluten free.
Simple Preparation in just seconds: "Bain-marie" or Microwave.
Get inspired and feel great enjoying the entire line of Maison Potier delicious sauces and marinades. Enjoy and share with your family and friends in your home for everyday meals or special occasions. From Maison Potier kitchen to your table crafted in Provence with love!
6.35 oz JAR (180 Gram)