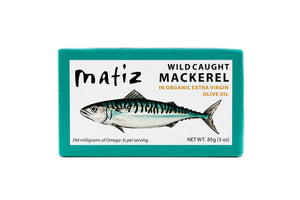 Wild-Caught Natural Artisan Mackerel – Sustainably harvested off the coast of Spain and packed in high-quality olive oil our sardine fillets offer rich, natural bold flavors.

Exceptional Taste and Texture – Our fish give an authentic canned experience making them a more enjoyable meal or snack.

Protein-Rich Snack – These wild caught mackerel are packed with proteins, vitamins, Omega 3 fish oils, and other essential ingredients that support your daily diet.

Gluten Free and Non-GMO – Backed by purity and freshness you can trust, we carefully pack each can to ensure they arrive ready to eat and free of additives.

Versatile Meal Addition – Enjoy them fresh out of the can or add them to tapas, tossed veggies, pasta, or with a touch of lemon to create an original flavor blend. 
3 oz can